I don't review books I don't like!
*****= An all-time favorite
**** = Outstanding
*** = Above average
** = Enjoyable
* = Good, with reservations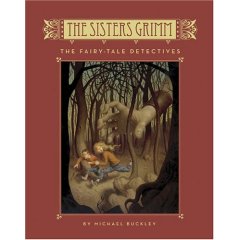 ***The Fairy-Tale Detectives
The Sisters Grimm, Book One
by Michael Buckley
Reviewed March 5, 2006.
Amulet Books, New York, 2005. 284 pages.
Available at Sembach Library (J MCN F BUC).

When Sabrina and Daphne are sent by the orphanage to live with someone who claims to be their Granny Relda Grimm, they protest that their grandmother is dead. But the orphanage has had enough of them, and they have to go.

Sabrina is convinced that Granny Relda is crazy. She claims that she and they are descendants of the famous Brothers Grimm. The stories they wrote down were not made up tales, but actual histories. But things got rough in Europe, so the Grimms and all the Everafters from fairy tales moved to America.

The Everafters built a small town in America, but after awhile, humans began moving in, and the Everafters felt endangered again. A group of rebels decided to persecute the humans, rather than letting it be the other way around again. "It wasn't long before a plan was discovered by Wilhelm to conquer Cold Spring—the next town over—and make it part of Ferryport's territory. Desperate to prevent what would surely be an all-out war between Everafters and humans, Wilhelm went to the most powerful witch in town, Baba Yaga. Together they cast a spell on the town, preventing any of the Everafters from leaving."

However, magic always has a price, and the price for Wilhelm Grimm was that he also—and his descendants—could not leave Ferryport Landing either. The spell will be broken when the last member of the family is dead—so the Everafters would be happy to see all of them dead. Like Wilhelm, the current Grimms try to keep things calm. They investigate anything criminal, and document what they see, to let their descendants know what they are up against.

Sabrina had to see many strange things before she believed Granny Relda's story. By then, Granny and her wolf-like assistant had been captured by a giant, and the girls had to turn to several disreputable Everafters in order to try to rescue them.

I love the premise of this book, and am not quite sure why it didn't really capture my interest and became kind of hard to get through. Still, it's an amusing book to dip into, and makes for fun reading. I like the way some of the characters who are traditionally bad guys are now acting on the side of the Grimms. For example, traditional good guy Prince Charming is the power-hungry mayor of the town and may be responsible for the giant on a rampage. His sinister policemen are actually the Three Little Pigs. There's definitely some fun in this book.


Copyright © 2006 Sondra Eklund. All rights reserved.