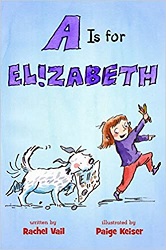 A Is For Elizabeth
Review posted November 2, 2019.
Feiwel and Friends (Macmillan), 2019. 121 pages.
Starred Review
Review written May 21, 2019, from a library book
I picked up this new book because I didn't have very many beginning chapter books to talk about when booktalking in the local elementary schools this year for the Summer Reading Program. This one is exactly what I was looking for.
Elizabeth is starting second grade at the start of this book, so it's perfect for the rising second graders. She has her first homework assignment – to make a poster about her name. She doesn't think this is fair, since ELIZABETH has so many letters.
To be even more unfair, the posters will be presented in alphabetical order. That means Anna is going to go first. But that doesn't seem right. After she makes the poster, she talks with her brother Justin:
"Sometimes the name Elizabeth starts with the letter A," I explained to Justin.
"No it doesn't," he said.
Justin is in fifth grade, so he thinks he knows everything.
"Sometimes it does," I said.
"Never," he said.
"Haven't you ever heard of sound it out?" I asked.
Justin looked confused. Ha! Even fifth graders don't know everything.
"Annoying. Amazing," I said. "Sound it out. What letter makes the uh sound at the beginning?"
"An A," Justin said.
"AHA!" I said. "And my name starts with the same sound! A-lizabeth!"
As a mother, I especially enjoyed the part where Elizabeth tells her parents that she needs poster board for a project due tomorrow.
There is a rule in our family that I forgot all about.
It is:
No saying the words Poster Board after 6:00 p.m.
"You said it, too," I told Mom.
"Said what?" she asked me.
"The words that rhyme with toaster sword . . ."
"Toaster sword?" she asked.
"Yes," I said.
I whispered the words poster board.
"You said those words at least five seconds later in the night than I did, Mom."
Mom shook her head.
Dad shook his head.
They both did loud breathing.
That is what they do when I make a good point and win the argument.
A Is For Elizabeth is a fun look at the challenges and triumphs of second-grade life. It has fifty very short chapters and illustrations on every spread. Reading this book will not be daunting, but will give a sense of accomplishment.