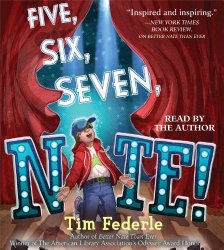 Five, Six, Seven, Nate!
Reviewed April 30, 2015.
Simon & Schuster Audio, 2014. 6 CDs.
Starred Review
2015 Sonderbooks Stand-out
: #5 Children's Fiction
First, I'll say that this follow-up to Better Nate Than Ever is fabulous. In this case, the author and narrator has worked on Broadway himself – so he can tell this story as it should be told.
Five, Six, Seven, Nate! features Nate Foster, moving to New York, cast as second understudy for the role of E. T. in E. T.: The Musical. His adventures and the simple day-to-day things he deals with, are hugely entertaining. The reader (or listener) is definitely rooting for Nate, excited about his dream come true of actually performing on Broadway.
He leaves his best friend Libby behind, but she's given him plenty of tips and moral support. He's also leaving behind relentless bullies and parents who are far more impressed with his older brother's sports prowess. At thirteen years old, his voice is changing – which leads to some awkward timing. He's staying with his Aunt Heidi and learning how to navigate New York and show business.
This is a feel-good, heart-warming novel that will leave you wanting to belt out a musical number at the end. (Now that would have enhanced the audio!) Tremendously fun listening.
Okay, that's my review – I loved the book, and kids will love it, and it gives insight into what it's like to be part of a Broadway musical.
Now let me talk about something I was going to ignore – but I decided that in today's climate, it deserves mention.
Yes, Nate – a thirteen-year-old boy who is obsessed with Broadway musicals – is gay. Back home, in Pennsylvania, he was relentlessly and cruelly bullied. In the book, Nate is involved in two kisses, one with a girl, one with a boy. The one with a boy feels dramatically different, dramatically more right.
The reason I bring this up at all is that I still have friends who believe that homosexuality is a choice, not the way people are born. This book, without making an argument at all, argues against that view. Some of those friends might not want their children reading this book, but I believe they would do well to read it themselves.
Come on, a boy who loves musical theater? Do you really have trouble believing he's gay? Do you really have trouble believing he would be bullied horribly? Do you really believe he would choose bullying, choose his parents' disapproval, if he actually had a choice about it?
You may argue that this is only fiction, but the book is based on the author's adventures in Broadway. The whole scenario rings true.
In the first place, this is a fantastic, feel-good story. But for kids who see themselves in Nate, this is a wonderful opportunity to read a book about someone like them, someone different from his peers. For kids who don't see themselves in Nate, what better way than reading to put yourself in someone else's shoes? If this book promotes understanding and compassion – more power to it!