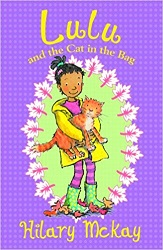 Lulu and the Cat in the Bag
Review posted February 25, 2018.
Albert Whitman & Company, Chicago, Illinois, 2013. First published in the United Kingdom in 2011. 84 pages.
I don't know how I missed this third book about pet-loving Lulu!
Lulu and her cousin Mellie's parents have gone on a trip, so their grandmother Nan has come to stay with them. Nan is not a fan of pets, but she does love gardens. She's not happy with their two dogs, Sam and Rocko.
The book begins with a bag on the doorstep, and the bag ends up holding an enormous marigold cat.
Nan is not happy about an enormous marigold cat turning up, and is relieved when it soon disappears. But the cat comes back. This cat likes flowers and knows how to keep the dogs out of the garden. Maybe Nan is warming up to it.
This is another gentle chapter book that any animal-lover will appreciate.