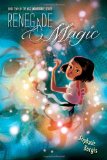 Renegade Magic
Review posted April 18, 2012.
Atheneum Books for Young Readers, New York, 2012. 329 pages.
Starred Review
2012 Sonderbooks Stand-out
: #8
Children's Fiction: Fantasy and Science Fiction
I loved Stephanie Burgis's first book, Kat, Incorrigible, a marvellous blend of Jane Austen-type society with magic and an incorrigible, irrepressible heroine. So I was delighted when I found an Advance Reader Copy of the second book about Kat at ALA Midwinter Meeting. It went directly on the top of my pile to read after the conference, and I was not disappointed.
I do recommend reading the first book first. I think you can still enjoy the second book without it, but you'll understand better what's going on with the Order of the Guardians who protect England and the enemies Kat has already made.
At the start of this book, Kat's older sister Elissa is going to be married. Her sister Angeline's beloved, Frederick Carlyle, is the best man. But when Frederick's mother interrupts the ceremony and accuses Angeline of ensnaring Frederick by witchcraft, with the word of a member of the Order of the Guardians as her evidence, the happiness of the younger sisters is seriously set awry.
Stepmama decides to take them away from the scene of their humiliation, fleeing to Bath, along with Kat's brother Charles, who always seems to be getting into trouble with gambling.
At Bath, Kat can sense a strange, wild magic, a magic that goes back to the Romans who founded the baths. Someone is trying to stir up a magic that can disrupt all of society. Can Kat fix things, as well as her own family's happiness? All while learning to use her own powers without proper training? The process is quite an adventure!
These books are outstanding middle grade fantasy with plenty of humor, lots of action, some actual history, lots of suspense, and people you enjoy knowing. I wouldn't want to be Kat's Stepmama, but I would definitely like being Kat's friend.