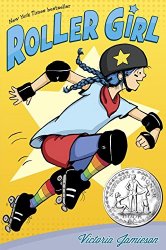 Roller Girl
Review posted 02/16/2016.
Dial Books for Young Readers, 2015. 240 pages.
Starred Review
2016 Newbery Honor
2015 Cybils Award Winner, Elementary/Middle Grade Graphic Novels
I don't get around to reading a lot of graphic novels, so I only got to this one after it got Newbery and Cybils attention, and I'm so glad I did.
This graphic novel reminds me of the wildly popular Smile by Raina Telgemeier -- It's got a similar artistic style and is also about a girl in middle school navigating friendships.
Roller Girl, unlike Smile, is fiction, but it's got the feel of memoir, with a picture of the author on the back flap in her roller derby gear. It certainly could happen.
Besides being in so-accessible graphic novel form, Roller Girl tells how Astrid gets involved in roller derby, a sport I certainly didn't know anything about.
Astrid's best friend Nicole, though, isn't interested. She wants to go to dance camp this summer, when Astrid signs up for roller camp. And Nicole has a new friend, who is as excited about ballet as she is, but who has no use for Astrid.
At roller camp, Astrid is a total beginner and feels like the only one who doesn't know this stuff. She works hard, but keeps falling. And working hard at roller derby is painful!
Then Astrid feels like she blows it even with the new friend she's made at roller camp. Is she just no good at being a friend?
This graphic novel is delightful. Astrid's spirit -- lots of falling, and yes, some grumbling, but she gets right back up -- will win the reader over quickly. Mind you, she doesn't make me want to be a roller girl, but she has me totally on her side, cheering for her.
Roller derby -- and putting on a "warface" -- is also an interesting way to work out anger with a friend. I'm not sure if it's a healthy way, but it's definitely entertaining! Though, mind you, Astrid does a good job in the book of facing interpersonal problems (with some stumbles along the way).
I have a feeling once a few kids find this book, word is going to spread like wildfire.