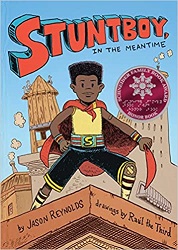 Stuntboy #1
In the Meantime
Review posted March 27, 2022.
A Caitlyn Dlouhy Book (Atheneum Books for Young Readers), 2021. 268 pages.
Review written March 5, 2022, from a library book
Starred Review
2022 Schneider Family Honor Book
2023 Odyssey Honor Audiobook
2022 Sonderbooks Stand-out
:
#8 General Children's Fiction
Stuntboy is not quite a graphic novel, since it doesn't use speech balloons -- at least, not very many. But it does have drawings on every page and lots of variety in the way the text is presented. If a kid, like Stuntboy himself, is easily distracted, the fact that each page is different in this book should keep their interest going.
Stuntboy is Portico Reeves. He lives in a castle -- well, at least in the biggest house on the block, what other people call an apartment building.
We learn early on that Portico sometimes gets the Frets.
What?
You've never heard of the frets?
You're kidding, right?
The un-sit-stillables?
The worry wiggles?
The bowling ball belly bottoms?
The jumpy grumpies?
(Or the grumpy jumpies, depending on who you ask.)
The hairy scaries, or worse, the VERY hairy scaries?
No?
Maybe it's because your mom probably calls it what Portico's grandma calls it - "anxiety."
Portico is a character impossible not to love. I love his bright outlook on life. He and his best friend are fans of superheroes, so they decide to be superheroes themselves. Stuntboy is a superhero who does the stunts for other heroes (like his friend Zola) so they don't have to get hurt. Often those stunts involve bouncing off walls, and Stuntboy doesn't mind practicing. And he's happy to save heroes when they don't even realize it.
But when Portico walks in on his parents having a fight and they ask him to go to Zola's apartment "in the meantime," he figures that's the time in which his normally nice parents are being mean to each other. And the meantime starts happening more and more often.
And every superhero has a nemesis. Stuntboy's is another kid in the castle, Herbert Singletary the Worst.
I'm excited this is only the beginning of this series about an extremely likable kid. This will keep young readers turning pages.