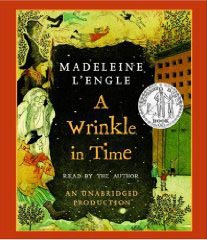 A Wrinkle in Time
Reviewed November 25, 2009.
Listening Library (Random House), An Unabridged Production, 5 CDs, 5 hours, 17 minutes
Text published 1962, performance 1992 by Tesser Tracks, Inc. 1963 Newbery Medal Winner
Starred Review
Sonderbooks Stand-out 2009
: Wonderful Rereads
In the online Newbery Medal class I took, we were all asked what was our favorite Newbery Medal winner, and no book was mentioned more than Madeleine L'Engle's A Wrinkle in Time. (For me, it's second only to The Hero and the Crown.) Imagine my delight as I was taking the class when I discovered that our library had a version of the book on CD read by the author herself!
Madeleine L'Engle spent some time in the theater, and she's not a bad reader at all, besides knowing how she meant certain things to be pronounced. I wrote a review of A Wrinkle in Time way back when I first started writing Sonderbooks, in August 2001, in only my third "issue." I find it amusing that I complained that it was hard to read it aloud because I couldn't figure out how to read Mrs Which. Because when I listened to this production, and Mrs Which's voice was done with a reverberating echo, I immediately thought, "Oh! That's how she meant it to be read!" (I also thought it was a little unfair, because you can't add that when you read it aloud to your own kids without special equipment!)
Listening to Madeleine L'Engle read the book herself was like hearing a friend coming back from the grave to tell a story, and a warm and loving story. Madeleine expresses all Meg's peevishness in her voice. She's an imperfect, flawed kid -- but she saves the day.
Listening to A Wrinkle in Time inspired me afresh. I may have to purchase my own copy and make a new tradition of not only reading A Wrinkle in Time every few years, as I used to do, but now listening to it every few years, read to me by Madeleine L'Engle herself.