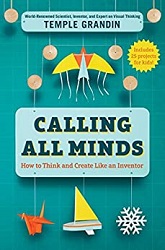 Calling All Minds
How to Think and Create Like an Inventor
Review posted May 20, 2020.
Philomel Books, 2018. 228 pages.
Starred Review
Review written September 23, 2018, from a book sent by the publisher
2018 Sonderbooks Stand-out
:
#3 Longer Children's Nonfiction
As the blurb on the cover of the book states, Temple Grandin is a "World-Renowned Scientist, Inventor, and Expert on Visual Thinking." She is also autistic. This book outlines some of the things that fascinated her as a child and led to her becoming a world-renowned inventor.
All along the way in this book, she presents projects for kids to experiment with. And for the most part, we're not talking about simple craft projects, though there are a few of those. Many things involve sawing lumber or cutting pieces to the right size. I also like the way she suggests tinkering with the creations to get the results you want.
A note to readers and their parents right at the front warns which projects "require the use of sharp objects or power tools." I think this makes the book all the more fascinating for an inquisitive mind.
I love the way she fills the book with stories of things that made her curious as a child. But I think my favorite part is where she explains about patents and how they work. She's got many diagrams from patents used in the illustrations. But best of all is that she encourages kids to indulge in this curiosity, too:
My grandfather stimulated my early interest in science and invention. There may even be a genetic link that explains our shared interest. You can look up one of his patents, Patent No. US2383460A, for a magnetic field responsive device. His invention makes the autopilot on airplanes work. A really fun thing to do online is to look up patents. You can easily find any invention; just type in "Google patent" and enter key words for whatever you're interested in. It's much easier to search Google than the government patent site, though you can use that, too.
Here's how she finishes the introductory chapter:
The future holds many crucial challenges such as understanding the impact of climate change, curing diseases, and ending hunger. We need all kinds of minds if we are going to figure out how to adapt. If we lose the ability to make things, we will lose a whole lot more. We need people who can cast iron and chemists who can create new materials that are lighter and stronger than metal. We need new storytellers, filmmakers, musicians, and artists. And we need new technologies to explore the future, including a deeper and more complex understanding of the earth and the ocean and the galaxies.
There is no better way to start than by making things of your own design. All the projects I made when I was young contributed to the inventions I've made throughout my life. And they have given my life meaning. I hope these projects and the ones you create will do the same for you.
Encourage the kids in your life to create, to try and try again, to tinker, and to make things with their own hands. This book is going to make some minds take off!