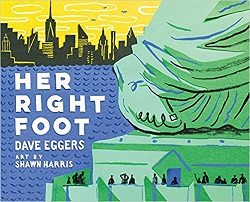 Her Right Foot
Review posted October 31, 2017.
Chronicle Books, 2017. 108 pages.
Starred Review
2017 Sonderbooks Stand-out
: #5 Children's Nonfiction
Dave Eggers has another brilliant children's nonfiction book about a great American landmark. Like This Bridge Will Not Be Gray, this book has many pages, but not a lot of words on each page. The tone is conversational, but a lot of facts are presented. In both books, the author is not afraid to ask questions.
And this book has a take on the Statue of Liberty that I'd never heard before. In fact, I googled pictures of the statue to make sure he was telling the truth! (He is!)
It's actually rather difficult to find pictures that show Lady Liberty's right foot, but Dave Eggers is correct – the statue is walking! Or, as Dave Eggers puts it, "She is going somewhere! She is on the move!"
He goes on about this at some length:
But she is moving. She weighs 450,000 pounds and wears a size 879 shoe, and she is moving. How can we all have missed this? Or even if we saw this, and noticed this, how is it that we have seen and noticed a 450,000-pound human on her way somewhere and said, Eh. Just another 150-foot woman walking off a 150-foot pedestal?
Then he speculates where she might be going.
But especially nice is the idea he presents at the end of this speculation.
If the Statue of Liberty is a symbol of freedom, if the Statue of Liberty has welcomed millions of immigrants to the United States, then how can she stand still?
Liberty and freedom from oppression are not things you get or grant by standing around like some kind of statue. No! These are things that require action. Courage. An unwillingness to rest.
He connects her depiction as moving with the fact that she is still welcoming immigrants today. "It never ends. It cannot end."
After all, as we've learned in this book, the Statue of Liberty is an immigrant herself. She is on the move to meet the immigrants as they arrive.
This book about the Statue of Liberty makes readers look at her with new eyes.