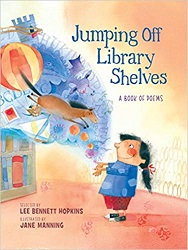 Jumping Off Library Shelves

A Book of Poems


Review posted January 4, 2019.
Wordsong (Highlights), Honesdale, Pennsylvania, 2015. 32 pages.
Review written in 2016, from a library book
A book of poems about libraries! Yes, please!
There are fifteen poems in this book, all by different authors except for Rebecca Kai Dotlich, who has the starting and ending poem. All the poems have something to do with libraries.
I'm going to simply quote some of my favorite lines.
From "Refuge," by Nikki Grimes:
. . . smiling at the sweet kingdom of story
inviting me in
to rest, to explore –
to dream.
From "At the Library," by Michele Krueger:
I've found a treasure,
a literal pleasure.
a book
I've not read
before.
From "Enchantment," by Jane Yolen:
Stack by stack,
shelf by shelf,
I pick out books
all by myself.
Of course I like "Librarian," by Joan Bransfield Graham
How do you
always find
the perfect
book?
You get that
look
in your eyes
and there
it is . . .
another
surprise
to savor.
From "The Poetry Section," by Alice Schertle:
It reached out and grabbed me!
That poetry sound
set my heart singing,
spun me around
like a million bells ringing,
a hundred-piece band –
those poems made music
right there in my hand.
There's even a poem about reading to dogs at the library, "Reading with Riley," by Kristine O'Connell George:
all ears, all listen,
as we snuggle deeper
into story.
From "Book Pillows," by Amy Ludwig Vanderwater:
With my head on a book
I dream of a place
where a pig loves a spider. . . .
Wild things on a rumpus!
Fat evil kings!
Boy wizards, girl witches!
Horses with wings!
And the beginning and ending poems imagine mice in the library at the start and end of the day. Of course at night they read the books! From "Midnight in a Library," by Rebecca Kai Dotlich:
whiskers, tails twitch,
there's magic in the air;
These poems are accessible for very young children as well as kids in school. And they celebrate libraries. What could be better?