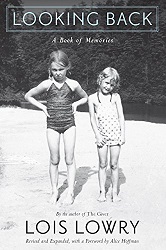 Looking Back
A Book of Memories
Review posted December 19, 2018.
Houghton Mifflin Harcourt, 2016. 259 pages.
Original edition published in 1998.
Starred Review
Review written in 2017
This is an Ideas photo album, courtesy of author Lois Lowry.
She says in the Introduction:
Stories don't just appear out of nowhere. They need a ball that starts to roll.
This book is written because the most common question writers for children get asked is "Where do you get your ideas?"
The book is full of old photographs. Before each chapter, she's got a short selection from one of the books she's written. Then there's a photograph. Then there's a memory about the photograph. Many times, it's easy to see how the memory and photo relate to the quotation. Sometimes less so. But it's always interesting.
This also gives a picture of a writer's life. Though the pictures aren't in chronological order. But you do get the feel for themes running through her life. She also included some photos of her parents. I enjoyed the ones where she placed photos side by side of herself and her mother at the same age.
I've been looking at old photos myself lately. It's fun to go through an album of memories with Lois Lowry.