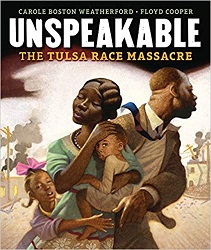 Unspeakable
The Tulsa Race Massacre
Review posted February 24, 2021.
Carolrhoda Books, 2021. 36 pages.
Starred Review
Review written February 23, 2021, from a library book
2021 Sonderbooks Standout
:
#1 Children's Nonfiction
This picture book tells about the Tulsa Race Massacre simply, in a way that will haunt you.
The book begins with pictures and text about the prospering and thriving Black community in Greenwood, Oklahoma. We see the train tracks between the Black and white communities in Tulsa, and hear about all the businesses in Greenwood, some the largest Black-owned in the nation. The business district was called Black Wall Street.
Each section starts with "Once upon a time in Greenwood…" and we hear of all the thriving businesses and opportunities and see pictures of happy people enjoying them.
There were also several libraries, a hospital,
a post office, and a separate school system,
where some say Black children
got a better education than whites.
Another page shows the "grand homes of doctors, lawyers, and prominent businessmen."
A little past the halfway point in the book is a turning point in the story, on a page mostly dark:
But in 1921, not everyone in Tulsa was pleased
with these signs of Black wealth – undeniable proof
that African Americans could achieve
just as much, if not more than, whites.
All it took was one elevator ride,
one seventeen-year-old white elevator operator
accusing a nineteen-year-old Black shoeshine man
of assault for simmering hatred to boil over.
The accused man was put in jail, and the white-owned newspaper urged readers to "nab" him.
There was a confrontation on May 31, 1921 of two thousand armed whites with thirty armed Black men trying to protect the accused. That was the beginning.
But then the mob turned on the rest of Greenwood and burned homes and businesses. They blocked firefighters from putting out the fires.
These pages don't show pretty scenes.
Once upon a time in Greenwood,
up to three hundred Black people,
including Dr. Jackson, were killed.
Hundreds more were injured.
More than eight thousand people
were left homeless.
And hundreds of businesses
and other establishments
were reduced to ash.
After details about the massacre, the story part ends with Tulsa's Reconciliation Park as it exists today.
There are detailed notes at the back and endpapers with a photograph of the devastated and desolate community – all the more hard-hitting after seeing the pictures of the community when it was thriving.
This is a sad story I only heard about last summer. It's a story that Americans should know, and this book presents the difficult truth in a way that children can grasp.