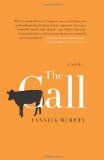 The Call
Review posted 12/12/12.
Harper Perennial, 2011. 223 pages. Starred Review
2012 Sonderbooks Stand-out
: #2
Non-Fantasy Fiction
It took me quite awhile to look at the back of this book closely enough to realize that Yannick Murphy is a woman. She gets the voice of a man, a veterinarian in New England, exactly right. Or at least what a woman thinks of as exactly the voice of a man, I suppose.
You'll get the format of the book right from the start. Here's how it begins:
CALL: A cow with her dead calf half-born.
ACTION: Put on boots and pulled dead calf out while standing in a field full of mud.
RESULT: Hind legs tore off from dead calf while I pulled. Head, forelegs, and torso are still inside the mother.
THOUGHTS ON DRIVE HOME WHILE PASSING RED AND GOLD LEAVES ON MAPLE TREES: Is there a nicer place to live?
WHAT CHILDREN SAID TO ME WHEN I GOT HOME: Hi, Pop.
WHAT THE WIFE COOKED FOR DINNER: Something mixed-up.
CALL: Old woman with minis needs bute paste.
ACTION: Drove to old woman's house, delivered bute paste. Pet minis. Learned their names -- Molly, Netty, Sunny, and Storm.
RESULT: Minis are really cute.
THOUGHTS ON DRIVE HOME: Must bring children back here sometime to see the cute minis.
WHAT CHILDREN SAID TO ME WHEN I GOT HOME: Hi, Pop.
WHAT THE WIFE COOKED FOR DINNER: Steak and potatoes, no salad. She said, David, our salad days are over, it now being autumn and the garden bare except for wind-tossed fallen leaves.
Yes, the story does get more complex, but always follows the same listing format. His responses about the items get much longer, waxing into many paragraphs. For example, here's a section only a few pages in:
WHAT THE WIFE SAID AFTER DINNER: Whose sneakers are these on the floor? Who left the butter out? Whose books are these? Whose sweater? Whose crumbs? Can't you clean up after yourselves? Don't leave a wet towel on your bed. Flush the toilet. Can't anyone flush the toilet? These papers will get ruined on the table in the kitchen. Do you want your papers ruined?
WHAT THE CHILDREN DID: Ran outside.
WHAT I DID: Ran outside. We went and looked for trees that would be good for raising my deer stand. There's a hill and ridge below where a stream runs through. There are game trails going down the ridge. There is already a wooden deer stand there someone put up long ago where Sam could hunt from while I hunted from my tree stand at the same time. This would be a good place for my stand. I thought I could use my stand for other things other than hunting, too. I could stand in my stand at night and call to the owls. I could stand in my stand at night and look for the bright lights in the sky, the object moving quickly back and forth, but then I remembered there was a warning that came with my stand. The warning said never to strap yourself into the harness in darkness because you may make a mistake, you may not be able to see where your leg should be going through a loop. You could be strapped into nothing. Also, you may not see a rung as you're climbing down the stand. Your footing will have no purchase. You will fall like a shot bird from a branch, head over heels to the forest floor heavily strewn with needles of pine.
WHAT SAM DID: Imitated me standing in the stand and falling out and landing with my head on a rock.
WHAT MY DAUGHTERS DID: Jumped on top of him as he lay with his head on the rock being me.
WHAT I SAID: Shhh, if you want to see something in the woods you have to be quiet.
Several themes develop. Those bright lights in the sky at night continue to dance around, until he's convinced there's a UFO overhead. He's supposed to go see the doctor. But much worse is what happens when his son goes hunting for the first time, and the aftermath.
I had planned to turn this book back in because I hadn't started it and my pile was too big, but when I read that first page, I couldn't resist. There's something so inherently funny about this understated way of looking at things, and the progression of his thoughts. Is there perhaps some superiority in thinking this must be exactly how a man thinks? Perhaps. But there's a lot of humor, too.
And the story? There is one, and it's a lovely one; a story about life and living it and enjoying every detail.
If you find this beginning irresistible, as I did, you will know that you need to read this book!