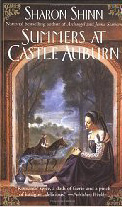 Summers at Castle Auburn
Reviewed July 19, 2009.
Ace Books, New York, 2001. 355 pages.
Starred Review.
The summer I was fourteen, my uncle Jaxon took me with him on an expedition to hunt for aliora. I had only seen the fey, delicate creatures in captivity, and then only when I was visiting Castle Auburn. I was as excited about the trip to the Faelyn River as I had been about anything in my life.
Corie is the illegitimate daughter of a lord. She has been apprenticed to her grandmother, a village witch. She never met her father, but after his death, her uncle found her and persuaded her grandmother to let her spend summers at Castle Auburn.
When I learned who my traveling companions were to be, I stopped complaining and began dreaming. Bryan of Auburn was everything a young prince should be: handsome, fiery, reckless, and barely sixteen. Not destined to take the crown for another four years, he still had the charisma, panache, and arrogance of royalty, and not a girl within a hundred miles of the castle did not love him with all her heart. I did, even though I knew he was not for me: He was betrothed to my sister, Elisandra, whom he would wed the year he turned twenty.
But I would be with him for three whole days, and say clever things, and laugh fetchingly. I expected this trip to be the grandest memory of my life.
This is the opening of the book Summers at Castle Auburn, and the trip does become an important memory for Corie, but partly because of how much her opinions change over the years.
As she reaches adulthood and Bryan approaches his coronation, Corie begins to think differently about the custom of taking the aliora into captivity, and about her Uncle Jaxon who is so skilled at capturing them.
She begins to think differently about Bryan. We as readers can see from the beginning his petulance and selfishness and pride, but Corie's eyes get opened more gradually. After that, she begins to see more clearly her sister's feelings about the upcoming wedding. Or does anyone really know what her sister is thinking?
As for Corie, what place does she have in the castle? Can she do anything about the injustices against the kind aliora? Which of her two lives -- in the castle or in the village -- will determine her life path?
Our library has this classified in the adult section, but it's a coming-of-age tale, and completely appropriate for teens, too. I found the story compelling enough for it to keep me going without stopping until the early hours of the morning, much to my annoyance! But it was a good tale, and though I fervently wished at work that day that I had read it in at least two sittings, I was still glad I read it.
There isn't a lot of magic in the story -- the main touch of fantasy is the fairy-people, the aliora and the imaginary herblore. A fine tale of romance and power in a medieval setting.