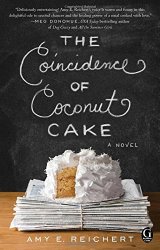 The Coincidence of Coconut Cake
Review posted October 31, 2015.
Gallery Books (Simon & Schuster), New York, 2015. 318 pages.
Starred Review
2015 Sonderbooks Stand-out
: #3 Fiction
The Coincidence of Coconut Cake was one of those books I enjoyed so much, once I started I didn't stop reading until I'd finished – even though most of the night had passed. (Oops!)
Lou Johnson is a chef in Milwaukee with her own restaurant, which is just beginning to turn a profit. Her fiancé, a lawyer, doesn't really understand her passion for her restaurant. He talks about a time when she "won't have" to work any more.
And then, when Lou brings over a coconut cake from her grandmother's recipe to surprise her fiancé on his birthday morning – she discovers a young intern at his house, with him in his boxers. She drops the cake on the intern's underthings.
Lou insists that she can work anyway. But her mind is not on her work, and everyone else in the restaurant is worried about her. Most unfortunately, by coincidence, that's the very night that the new food critic in town, A. W. Wodyski, has chosen to review her restaurant. His reviews are very popular, but he hasn't written a positive review yet. His review of Lou's restaurant is his most scathing so far.
The critic's real name is Al, and he's newly arrived from London, ready to move out of Milwaukee after he's built up a following. He ran into Lou the day he saw her walking with a divine-smelling coconut cake, and then he sees her again at a pub the day his review is published. Lou is in a terrible mood and quite drunk, knowing this review will destroy her fledgling restaurant.
At the pub, Al shows he's new in town and not too impressed with Milwaukee. Lou, born and raised there, offers to show him the sights. They begin spending Mondays together, Lou giving a friendly tour of the city. Their friendship grows as they discover more and more in common. Naturally, as you'd expect in a romance, Al discovers the secret between them first – that she's the one whose restaurant his review destroyed. But he's already in love. How can he keep Lou from finding out?
What I loved about this book? The two valued each other so much. This wasn't a romance you had to be told was happening or a romance based on good looks. You could watch it happening, and you could see two foodies bonding over common interests. Al is such a contrast with her ex-boyfriend, who didn't understand what motivated Lou. But Al and Lou see each other for who they are and value that – well, except for the big secret they don't realize is between them at first.
Here's a section I liked from when they're first getting to know one another. They've gone to a Chinese exhibition with a variety of sayings painted on the wall. Lou is looking at a quotation about Delight, and turns around and bumps into Al.
Al had hoped Lou would bump into him. He stood behind her while she stared at the wall for just that reason. Intrigued by her interest, he started to ponder the quotes on the wall, too. Delight – he couldn't remember the last time he felt delight. Maybe before Eton, when he and his parents took road trips through the English countryside, stopping in little village pubs for lunches, traipsing over hilltops to see what was on the other side, and sharing a hearty meal at the end of the day. Wait – that wasn't quite true. During his last outing with Lou, eating a buttery, cheesy burger and tasting fried cheese curds for the first time, with the sun shining and the world humming, he had felt delight. There had been no cynicism, no pretension, just pure enjoyment. Perhaps it was more about surroundings than the emperor had envisioned.
This book is the story of a relationship built on delight. And it is lovely. On top of that, it made me want to visit Milwaukee, something I've never wanted to do before. There's a strong sense of place in this novel, as well as wonderful characters and a genuinely delightful romance, which faces obstacles but comes through.
This was the kind of book which I finish and think, That's what I want. I want a relationship where I'm valued as much as Al and Lou value each other. I'd rather stay single than settle for anything less. It was a joy to read about such a couple.