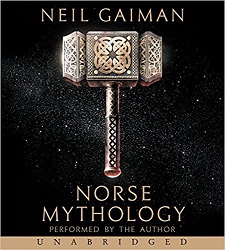 Norse Mythology


Review posted July 7, 2017.
HarperAudio, 2017. 6.5 hours on 6 compact discs. Unabridged.
I could listen to Neil Gaiman read the phone book! Although I ended up finding Norse mythology quite strange and wild – I can't imagine a better way to hear these stories than read by Neil Gaiman. And written by Neil Gaiman doesn't hurt, either. He captures the magical and mystical feel of the tales.
There's an explanation at the beginning about Asgard and Midgard and the Land of the Giants and all the rest – It might have been simpler if I'd had that explanation in print to refer back to. Anyway, this way I was caught up in the stories. Most of them had Loki being a trickster and Thor throwing his hammer around to get his way.
There are many stories in this collection, and many of them have more than one chapter. There's a dizzying array of characters, though usually Neil Gaiman refers back to where we have seen an obscure character before, so it seems quite coherent.
We do learn how Thor gets his hammer and what powers it has. And we find out about many adventures of the gods and goddesses, which so often start by an action that wasn't terribly wise. And then there are consequences. And gods and giants try to trick others and are tricked themselves. And most of the stories were not familiar to me like Greek myths, so they were all new adventures.
That review seems a little coherent, but here's the bottom line: Norse mythology explained and retold by Neil Gaiman, and even read by Neil Gaiman. Now that's worth listening to!