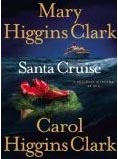 Santa Cruise
A Holiday Mystery at Sea
Review posted February 8, 2009.
Simon & Schuster/Scribner, New York, 2006. 261 pages.
I have enjoyed some of Mary Higgins Clark and Carol Higgins Clark's earlier Christmas mysteries. So I picked up this Holiday Mystery for some fun Christmas reading.
To start up his new cruise ship, Commodore Randolph Weed launches the "Santa Cruise" -- a free trip for people who have done good in the world. He even includes ten department-store Santas to cheer the crowd while enjoying the cruise. Alvirah Meehan and her husband Willy are among the honorees, and Alvirah invites her friend, private detective Regan Reilly and her husband Jack, as well as Regan's parents, Nora and Luke.
What the Commodore doesn't know is that his nephew Eric is using the cruise to make some money on the side. Eric has agreed to take two convicted felons on board and drop them off on an island in the Caribbean without an extradition treaty.
Right from the start, Eric's plans get thrown off. He has to give his large room to Alvirah and her husband, so the felons don't have a convenient place to hide. Good thing there are lots of Santa suits available.
Santa Cruise has lots of coincidences and never really works up to much feeling of suspense, but it does provide some light-hearted fun in a holiday setting.