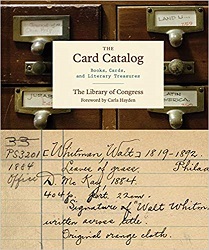 The Card Catalog

Books, Cards, and Literary Treasures


Review posted June 26, 2018.
Chronicle Books, 2017. 224 pages.
A history of the card catalog – it's surprising how interesting that turns out to be. Well, okay, it's interesting to me!
This book traces the development of the idea to put catalog information for libraries on 3 x 5 inch index cards. Originally, the Library of Congress would publish a book listing the books in its collection. So listing the information on cards was much more practical. Eventually, the Library of Congress was producing catalog cards for libraries across America.
But that's only a small portion of this book. The bulk of the pages are pictures of items in the Library of Congress collection – along with pictures of their catalog cards.
There are many classic books, also interesting memorabilia – and on the facing page you've got the catalog card – some of them yellowed and beat up – for that item.
This is a beautifully designed book and is lots of fun to browse through. Because it's mostly pictures, it doesn't take too long, either.