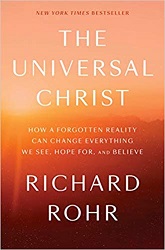 The Universal Christ
How a Forgotten Reality Can Change Everything We See, Hope For, and Believe
Review posted August 12, 2019.
Convergent Books (Penguin Random House), 2019. 260 pages.
Review written August 9, 2019, from my own copy purchased via Amazon.com
Starred Review
2019 Sonderbooks Standout
:
#1 Christian Nonfiction
This book hit the spot for me, and came my way exactly when I needed to read it. I had recently switched churches because my former church had adopted a policy that declares transgender people are wrong to change their gender and that opposes same sex marriage. As a universalist, I already had some disagreements with their theology, so I've been thinking about theology and inclusiveness, and was very ready for this book.
I will freely admit that some of the ideas went over my head. There's a lot of mysticism here, a lot of talk about insubstantial things. But I marked fifty passages to put in Sonderquotes, and I'll be going over these ideas again. Maybe after a few times through, more will sink in. And I'm sure of this: These are uplifting and beautiful ideas. They're based in Scripture and I believe they honor God. I'd like to put these concepts into my life.
This book is about trying to grasp – with experience and with our spirits, not necessarily our minds – the concept of Christ, who has been present much longer than the human Jesus.
Here are some questions from the beginning of the book:
Across the thirty thousand or so varieties of Christianity, believers love Jesus and (at least in theory) seem to have no trouble accepting his full humanity and his full divinity. Many express a personal relationship with Jesus – perhaps a flash of inspiration of his intimate presence in their lives, perhaps a fear of his judgment or wrath. Others trust in his compassion, and often see him as a justification for their worldviews and politics. But how might the notion of Christ change the whole equation? Is Christ simply Jesus's last name? Or is it a revealing title that deserves our full attention? How is Christ's function or role different from Jesus's? What does Scripture mean when Peter says in his very first address to the crowds after Pentecost that "God has made this Jesus . . . both Lord and Christ" (Acts 2:36)? Weren't they always one and the same, starting at Jesus's birth?
Here's another paragraph from that first chapter:
A merely personal God becomes tribal and sentimental, and a merely universal God never leaves the realm of abstract theory and philosophical principles. But when we learn to put them together, Jesus and Christ give us a God who is both personal and universal. The Christ Mystery anoints all physical matter with eternal purpose from the very beginning. (We should not be surprised that the word we translate from the Greek as Christ comes from the Hebrew word mesach, meaning "the anointed" one, or Messiah. He reveals that all is anointed!) Many are still praying and waiting for something that has already been given to us three times: first in creation; second in Jesus, "so that we could hear him, see him with our eyes, watch him, and touch him with our hands, the Word who is life" (1 John 1-2); and third, in the ongoing beloved community (what Christians call the Body of Christ), which is slowly evolving throughout all of human history (Romans 8:18ff). We are still in the Flow.
As I said, I read this book at exactly the right time. Many of the ideas resonated beautifully with other books I've been reading, indeed, some of those books were quoted. But they were all brought together in a new way, taking things I'd been thinking about and going further.
An especially lovely resonance happened on Monday this past week. I was looking up a George MacDonald quote to insert in my blog series A Universalist Looks at the New Testament, and when I found it, discovered that my favorite George MacDonald Unspoken Sermon, "Justice" is available online, and I had a lovely time rereading it. This sermon explains why George MacDonald does not believe God's justice and God's mercy are opposed to one another and why he finds the idea that Jesus had to save us from God's wrath utterly abhorrent.
Well, I read that sermon in the afternoon. Later that same day, I picked up this book to read the next chapter – and the chapter was called "Why Did Jesus Die?" and also explains the problems with the penal substitution theory of the atonement.
At best, the theory of substitutionary atonement has inoculated us against the true effects of the Gospel, causing us to largely "thank" Jesus instead of honestly imitating him. At worst, it led us to see God as a cold, brutal figure, who demands acts of violence before God can love his own creation. Now, there is no doubt that both Testaments are filled with metaphors of atonement, sacrifice, expiation, ransom, paying the price, opening the gates, et cetera. But these are common temple metaphors that would've made sense to a Jewish audience. Anthropologically speaking, these words and assumptions reflect a magical or what I call "transactional" way of thinking. By that I mean that if you just believe the right thing, say the right prayer, or practice the right ritual, things will go right for you in the divine courtroom. In my experience, this way of thinking loses its power as people and cultures grow up and seek actual changes in their minds and hearts. Then, transformational thinking tends to supplant transactional thinking.
There are so many inspiring tidbits in this book. They are big ideas, and I'm going to need to go over it all again to try to grasp it better.
Overwhelmingly, this book is about the love of Christ, all around us and within us. And changing our lives and our vision.
Mostly, we must remember that Christianity in its maturity is supremely love-centered, not information- or knowledge-centered, which is called "Gnosticism." The primacy of love allows our knowing to be much humbler and more patient, and helps us to recognize that other traditions – and other people – have much to teach us, and there is also much we can share with them. This stance of honest self-knowledge and deeper interiority, the head (Bible), heart (Experience), and body (Tradition) operating as one, is helping many to be more integrated and truthful about their own actual experience of God.
This book is not about doing or achieving, and I'm finding words like these freeing and inspiring:
Once the real inner journey begins – once you come to know that in Christ, God is forever overcoming the gap between human and divine – the Christian path becomes less about climbing and performance, and more about descending, letting go, and unlearning. Knowing and loving Jesus is largely about becoming fully human, wounds and all, instead of ascending spiritually or thinking we can remain unwounded. (The ego does not like this fundamental switch at all, so we keep returning to some kind of performance principle, trying to climb out of this messy incarnation instead of learning from it. This is most early-stage religion.)
His idea of the Universal Christ is fundamentally BIG:
To be loved by Jesus enlarges our heart capacity. To be loved by the Christ enlarges our mental capacity. We need both a Jesus and a Christ, in my opinion, to get the full picture. A truly transformative God – for both the individual and history – needs to be experienced as both personal and universal. Nothing less will fully work. If the overly personal (even sentimental) Jesus has shown itself to have severe limitations and problems, it is because this Jesus was not also universal. He became cozy and we lost the cosmic. History has clearly shown that worship of Jesus without worship of Christ invariably becomes a time-and culture-bound religion, often ethnic or even implicitly racist, which excludes much of humanity from God's embrace….
For you who have loved Jesus – perhaps with great passion and protectiveness – do you recognize that any God worthy of the name must transcend creeds and denominations, time and place, nations and ethnicities, and all the vagaries of gender, extending to the limits of all we can see, suffer, and enjoy? You are not your gender, your nationality, your ethnicity, your skin color, or your social class. Why oh why, do Christians allow these temporary costumes, or what Thomas Merton called the "false self," to pass for the substantial self, which is always "hidden with Christ in God" (Colossians 3:3)? It seems that we really do not know our own Gospel.
It's tempting to keep finding bits to quote, but stay tuned to Sonderquotes, and you'll see many more inspiring words from this book.
Try it out – perhaps the timing will be as lovely for you to hear these inspiring words as it was for me.