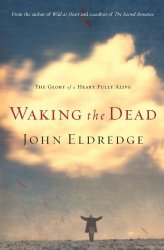 Waking the Dead
The Glory of a Heart Fully Alive
Review posted May 23, 2015.
Nelson Books, 2003. 244 pages.
Starred Review.
2015 Sonderbooks Stand-out
: #7 Other Nonfiction
My church Small Group has been going through this book since last Fall, so eight months. The accompanying workbook is longer than the original book – quoting most of the book along the way! But it has been a fruitful, deep-digging study. I highly recommend this for small groups.
This book gives us the message that our hearts are good, but we are at war.
John Eldredge leans heavily on the message of myth, and that resonates with me. This book is all about awakening our hearts. Working through these ideas with a group of fellow-travelers has been wonderfully inspiring and uplifting.
He talks about four streams: Walking with God, receiving God's intimate counsel, deep restoration, and spiritual warfare. All of these are needed in helping our hearts come alive.
The overall message is one of life, true life.
To the weary, Jesus speaks of rest. To the lost, he speaks of finding your way. Again and again and again, Jesus takes people back to their desires: "Ask and it will be given to you; seek and you will find; knock and the door will be opened to you" (Matt. 7:7 NIV). These are outrageous words, provocative words. Ask, seek, knock – these words invite and arouse desire. What is it that you want? They fall on deaf ears if there is nothing you want, nothing you're looking for, nothing you're hungry enough to bang on a door over.
Jesus provokes desire; he awakens it; he heightens it. The religious watchdogs accuse him of heresy. He says, "Not at all. This is the invitation God has been sending all along."
This is a provocative book, as it should be with that title! You'll encounter some ideas that aren't necessarily widely taught. It shook up the members of our group, in a very good way. We looked at our own hearts, and the ways we are being attacked, and had our eyes opened to many things.
Read this book and get woken up.