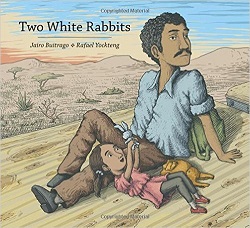 Two White Rabbits

Review posted August 26, 2016.
Groundwood Books, Toronto, 2015. 48 pages.
I'll admit that this is a message book. But the message is in the background, which makes it palatable. The story is of a little girl who is traveling with her dad.
When we travel,
I count what I see.
At first the things she sees are normal barnyard things. I thought it was a counting book for a little while.
Then we see them cross a river and we see people camping out.
When we travel, I count the people
who live by the train tracks.
"There are people," says my dad,
"who live by the tracks."
The next spread shows people climbing onto a train. On the spread after that, the girl is calmly and happily leaning back against her dad, pointing into the sky. She says:
And if I get tired, I look up and count the clouds. I learned to count to one hundred.
It's not until the spread after that that we realize she and her dad are on top of an old rusty train car themselves.
Their journey continues. Off the train. They meet some people and her dad makes plans to go further. But the story is told firmly from the girl's perspective. Here's what she says later on, when lying in her dad's lap in the back of a pickup truck:
Sometimes, when I'm not sleeping, I count the stars. There are thousands, like people. And I count the moon. It is alone. Sometimes I see soldiers, but I don't count them anymore. There are about a hundred.
There is lots of symbolism in the pictures, including in toys and in animals along the way – notably a coyote and two white rabbits. There are many spreads without words, including the final pages.
The story of their journey doesn't really finish. We see a long fence, a desert, and two white rabbits.
There is a note at the end about refugees from the President of the International Board on Books for Young People. You may or may not wish to read it to your children. I think the letter gives a nice taste of the tone in this book (though it's much more subtle in the book, not explicitly stated), so I will repeat the letter in full:
The father and daughter in this book are leaving their home and the world they know and love to go to a different country. Maybe it is because the father cannot find work and a way to support his daughter at home. Maybe because the world they live in has been destroyed by violence, war and danger. We don't know.
What we do know is that millions of people around the world become refugees every year. In North America, close to a hundred thousand children from Central America make the very dangerous trip you see here to try to find safety and a way to survive in the United States. Coyotes, people whom they pay to "help" them make the trip, often betray and abandon them. And when they finally make it to the border, they might be turned back or arrested. Many of the children who come to the United States alone are sitting in American detention centers along the Mexican border waiting to hear their fate.
What do those of us who have safe comfortable lives owe to people who do not?
Patricia Aldana
President, IBBY Foundation