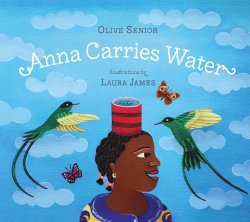 Anna Carries Water
Review posted August 15, 2014.
Tradewind Books, 2014. First published in Canada in 2013. 42 pages.
Starred Review
2014 Sonderbooks Stand-out
: #7 Picture Books
This is a lovely book that takes a situation that would be unfamiliar to most American children and deals with the universal emotions involved in that situation.
Anna's family lives way out in the countryside, and they don't get their water from a tap. Every evening after school, the children go to the spring for water. All her bigger siblings carry the water back to the house on their heads. More than anything, Anna wants to carry the water on her head, like they do.
They tell her not to try – she'll get her clothes wet. She cries when they are right.
But her siblings aren't mean about it. They tell her not to worry about it, one day it will just happen. And the rest of the book tells about the day when it does. This also has some humor and a relatable situation.
The lovely bright paintings on large pages make the book beautiful.
This book will make a wonderful choice for preschool storytime, but also for any child who wants to do things the bigger kids can do.