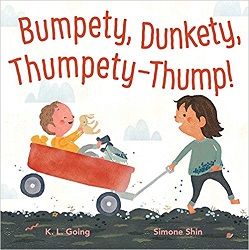 Bumpety, Dunkety, Thumpety-Thump!
Review posted April 25, 2018.
Beach Lane Books (Simon & Schuster), 2017. 44 pages.
Starred Review
Ah! Here's a lovely new book just right for toddler story time. The words sing, and point out the sounds a child might hear as they go about their day.
Here's how it begins:
Wagon on gravel goes bumpety-bump.
Pebbles in the pond fall dunkety-dunk.
Toes in the grass go thumpety-thump.
Bumpety, dunkety, thumpety-thump.
The above takes up a two-page spread for each line.
Then the action continues: The children pick berries. When plopped into the bucket, they go plunkety-plunk. They take them home and make a pie with their parents, with more onomatopoeia happening.
Then there's washing up – both dishes and children.
The final set of the day goes like this:
Nose taps nose with a bumpety-bump.
Snuggle in the blankie in a lumpety-lump.
Hearts beat close with a thumpety-thump.
Bumpety, lumpety, thumpety-thump.
Like all good bedtime books, this one ends with children asleep in bed – but there is enough action and rollicking rhyme going on, that it can be read any time of the day.
This sweet book begs to be read aloud.