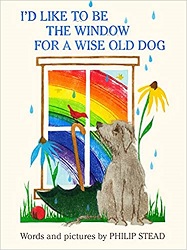 I'd Like To Be the Window For a Wise Old Dog
Review posted August 5, 2022.
Doubleday Books for Young Readers, 2022. 48 pages.
Review written July 12, 2020, from a library book
Starred Review
This picture book is a beautifully illustrated nonsense poem, and it won my heart. The elephant in the illustrations reminds me of the author's wife's Caldecott-winning work in A Sick Day for Amos McGee.
How could I be the window for a wise old dog? I'm not exactly sure, but this book makes me want to be one, too. The Poetry is whimsical and rolls off the tongue. The pictures are lovely and somewhat fantastical, but especially lovable are the pictures of the wise old dog by the window.
Here are some of the lovely lines:
Will I ever be the dawdle of a penguin?

Will I ever be the waddle of a snail?

Will I ever be the tumble of a honeybee?

Will I ever be the bumble...

... of a whale?
And each line has big, bright, colorful pictures.
I never before wanted to be a window for a wise old dog, but this book sends my imagination into flight. I would so love to discuss it with a child -- I bet their imagination would fly even further than mine. (This might be one to get for my nieces!)