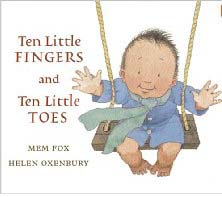 Ten Little Fingers and Ten Little Toes
Review posted February 25, 2009.
Harcourt, 2008. 40 pages.
Starred review.
Sonderbooks Stand-out 2008
: #4 Picture Books
I saw this book listed on more than one end-of-the-year Best of 2008 list. I've loved Helen Oxenbury ever since my 20-year-old son was a toddler who memorized the text in her Tom and Pippo books and "read" the books along with me. Mem Fox I discovered later, but have an extra-special fondness for her books, particularly Harriet, You'll Drive Me Wild!
So I simply had to check this book out. I was completely enchanted. I will definitely be using this book at my very next Mother Goose Time for babies and parents. The book is only a few months old, and already I find myself thinking of it as a classic no parent of a baby should be without.
There was one little baby who was born far away
And another who was born on the very next day.
And both of these babies, as everyone knows,
had ten little fingers
and ten little toes.
Mind you, the picture on the page with "had ten little fingers and ten little toes" shows baby hands and feet so precious you just want to eat them up! (No one draws babies so utterly adorably yet lifelike as Helen Oxenbury.)
The book goes on, in the sweet rhyming cadence, to tell of babies from all over the world.
As each set of two new babies is introduced, the earlier babies look on as a kind of adorable chorus.
The final stanza is what clinches this book as such a delightful exploration between parent and baby:
But the next baby born was truly divine,
a sweet little child who was mine, all mine.
And this little baby, as everyone knows,
has ten little fingers,
ten little toes,
and three little kisses
[Here the earlier babies are laughing in anticipation!]
What can I say? I think this is going to get tucked in with the next baby shower gift I give. Absolutely delightful! Go to your library and look at the illustrations, if you don't believe me!