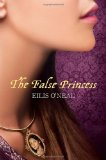 The False Princess
Review posted September 4, 2011.
Egmont USA, New York, 2011. 319 pages.
Starred Review
Here's a lovely romantic fairy-tale-type story that will keep you guessing. Fans of Ella Enchanted and The Goose Girl and Princess Ben (like me!) will enjoy it.
Nalia has grown up as crown princess of Thorvaldor. But after her sixteenth birthday, her parents summon her and tell her that her entire life was a lie.
Every royal child of Thorvaldor gets a prophecy from the Oracle. The prophecy Nalia learned was a bland one about peace and prosperity. But on that memorable day, her supposed parents tell Nalia what the prophecy really was:
According to the oracle, there was a chance the princess could die, murdered, before her sixteenth birthday. It was not certain, but the chance was great enough that, when she sought the foretelling, all the oracle saw was blood, and the princess dead in this room.
The king and queen were sure this would be their only child. They were ready for desperate measures:
He stopped short, his eyes fixed on mine. When he spoke again, he sounded tired, like a man at the end of a long journey. "We hid the princess away so that she would be safe until after her sixteenth birthday. And we replaced her with another baby, a false princess. You."
The court magicians take off the glamour that's been on Nalia all her life, and she loses her birthmark. She learns that her name is Sinda Azaway. She doesn't even get to say good-by to her best friend, Kiernan, an earl's son, and she's sent to live with her aunt, who thought she was dead.
The king and queen send gruff Aunt Varil a gift she can't even use. Aunt Varil is a dyer, and Sinda tries to help, but it turns out she's no good at dyeing or any other kind of labor fitting to her new station. However, she does learn she has an innate magical talent (which no one in the royal family ever does), and is dangerous unless she learns how to control it. She tries to get into the magical academy in the capital, but can't afford it. However, she finally gets a break when a kind lady wizard takes her in as an apprentice. And then she's close to the castle and finds out something's funny about the "real" princess.
This is a very good yarn, another delight for people who enjoy fairy tales (like me!). The plot is complex, with plots and counterplots -- almost too complex, but not quite. There's a nice touch of romance, and plenty of action. Sinda is in a unique position to find out what's going on, and also in a unique position to set things right. Her journey to do that is perilous but fascinating, scary but exciting.
This is a wonderful first novel! Ellis O'Neal has spun a complicated tale and done a great job of getting it all across, and making it a delight to read. This is just the sort of book that I read and wish I had written myself! I'm really looking forward to Ellis O'Neal's future offerings!