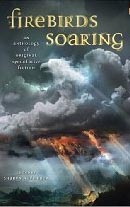 Firebirds Soaring

An Anthology of Original Speculative Fiction


Reviewed 09/09/09.
Firebird, 2009. 568 pages.
Here's another outstanding collection of stories by authors who are associated with the Firebird imprint. Looking at my review of the first anthology Sharyn November edited, Firebirds, I'm reminded that it was the collection that introduced me to Sherwood Smith's writing, including Crown Duel, one of my all-time favorite books. I found that amusing, since my reaction to finishing Firebirds Soaring was to go on a Sherwood Smith spree, beginning with rereading Crown Duel and then several other Sherwood Smith books I have bought since then, but didn't get read because they were not library books and didn't have a due date. (There's a similar problem with the second Firebirds anthology, Firebirds Rising. I liked Firebirds so much, I bought my own copy of Firebirds Rising as soon as it came out -- and then didn't get it read because it didn't have a due date. I plan to remedy that soon!)
Yes, Firebirds Soaring had another Sherwood Smith story, which was what got me started on my Sherwood Smith spree. Another story I liked was the first story, "Kingmaker," by Nancy Springer, about a girl who can tell when someone is lying and the fate of a kingdom. I'm afraid I especially liked it when I read the Author's Note after the story:
The story developed from a fortunate fusion of a daydream I'd been having ever since my divorce -- a fantasy about magically knowing whether people are telling the truth or lying; gee, I wonder where that came from -- and my long-time interest in legend and mythology, particularly Celtic.
I hasten to add that the story resonates far beyond that germ of an idea.
Another story I enjoyed was the science fiction offering "Flatland," by Kara Dalkey, where a young professional lives in a high-tech "cubio" owned by the corporation. Another favorite was "Egg Magic," by Louise Marley, with magic showing up in the eggs of the grumpy chicken left to a girl by her mysterious mother. I liked the every-day-ness of that story, with the magic mixed in. Nina Kiriki Hoffman had a novella in the middle of the book, "The Ghosts of Strangers," which was particularly good, with dragons and a girl who can see and talk with ghosts.
Elizabeth Wein's story, "Something Worth Doing," isn't even fantasy (as her novels aren't), but is a wonderful story about a girl taking her brother's place and training as a pilot during World War II. Another one I particularly liked was "Three Twilight Tales," by Jo Walton.
A few of the stories were on the dark side for my taste, but mostly I found this anthology a treat to dip into and enjoy. It's also a great way to find new authors I'm sure to like. I will definitely have to look for more of these writers' books.