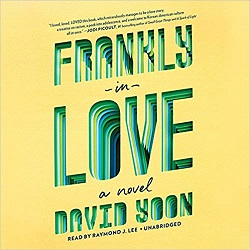 Frank Li is a senior in high school whose parents came to America from Korea before he was born. His parents want him to marry a nice Korean girl, and they have someone in mind. They've stopped talking to Frank's older sister because she married an African American man. Frank's best friend Q is African American, and they don't mind that, but they want their children to marry someone Korean.
This audiobook explores the expectations and assumptions Frank and his friends have to endure. I like the way Frank, who's telling the story, describes white folks as "European Americans" – because that seems only fair.
Frank has grown up going to "Gatherings" – where his parents and other friends who came to America from Korea get together with their families. The kids call themselves the "Limbos" – because they're not quite seen as American and not quite seen as Korean.
When Frank falls in love with a European American girl, he works out a fake dating arrangement with Joy Song, one of the Limbos who his parents are pushing him to spend time with. Joy has had a Chinese American boyfriend for years, but hasn't told her parents. If she and Frank pretend to go on dates with each other, they have a cover for spending time with their own beloved.
The scheme seems simple, but neither one can quite bring themselves to tell their real date. And things rapidly get more complex.
This is a fun story with lots of poignant moments. This book makes you think about relationships, and not only romantic ones, but also relationships with friends and family.