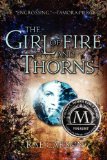 The Girl of Fire and Thorns
Review posted October 20, 2012.
Greenwillow Books, 2011. 423 pages.
Starred Review
2012 Morris Award Finalist
This is an impressive debut fantasy novel. The author builds a complex, realistic world, and stands a few fantasy conventions on their heads.
For example, where usually you have the heroine not wanting an arranged marriage because the intended is old and ugly, here's how this book opens:
Prayer candles flicker in my bedroom. The Scriptura Sancta lies discarded, pages crumpled, on my bed. Bruises mark my knees from kneeling on the tiles, and the Godstone in my navel throbs. I have been praying -- no, begging -- that King Alejandro de Vega, my future husband, will be ugly and old and fat.
Today is the day of my wedding. It is also my sixteenth birthday.
Elisa is the Chosen One. The whole world knows because of the Godstone in her navel. And her god communicates with her through the Godstone. There are prophecies about her.
One thing I like about this is that no one agrees on what the prophecies actually mean. That seems completely realistic, after all. If there were a prophecy, isn't it likely that whole factions would have different beliefs about what that prophecy means, about what the Chosen One can do for them?
Elisa's an unlikely heroine, too. She loves to eat, and is overweight and lazy, at least until circumstances force her to change. This book involves war, state politics, danger, adventure, romance, and even religion.
The biggest thing I didn't like about this book involved my personal prejudice against present tense novels. Most of the time, the story was able to overcome that so I didn't notice, but not all the time.
Still, Rae Carson built a fascinating world with this book, and the story is clearly not finished. I will definitely want to read this book again when the sequel comes out and spend more time with these characters.