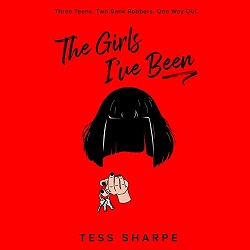 The Girls I've Been
Review posted September 9, 2021.
Listening Library, 2021. 9 hours, 48 minutes.
Review written August 12, 2021, from a library eaudiobook
Starred Review
2021 Sonderbooks Standout
:
#2 Teen Fiction
2022 Cybils Winner, Young Adult Fiction
Wow! This thriller for teens doesn't let up the tension for a second.
The book begins as Norah goes into a bank with her girlfriend and her best friend, Wes. We learn that Norah's worried about Wes, who's mad because he hadn't known Norah and Iris were a couple and this is one more time Norah has lied to him.
Then the guy in the line behind them pulls out a gun.
The bank robbery clearly doesn't go according to plan – the bank manager is not in his office – so the two would-be robbers take hostages. They have no idea who they're dealing with in Norah. They're going to be sorry they thought they could use her to their own advantage.
The story is told beautifully, with little bits of Norah's background slipping out as the tense situation in the bank keeps developing. We learn she's escaped her mother, who is a con-artist. Her mother used to find a mark and play a con – and then get out, completely changing their identities. So Norah has been many different girls.
But can she use what she learned from those other girls to get herself and her friends out of the hostage situation alive? It's for sure not going to be easy.
I wish I could say more – but it's all revealed in perfectly small, tantalizing doses, and I don't want to detract from that. Let me simply say that this is one of the best suspense novels I've ever read.
And it's a big mistake for bad men to mess with Norah!
Besides the gratifying triumphs and clever, surprising escapes (I'm talking about the past, not necessarily the bank, because I don't want to give that away), this book also shows the beautiful friendships Norah has during the present time of the story, after escaping the abusive childhood with her mother. So this book also gives the hope that people can recover and heal. They may still have scars, but they can rise above.
The author reads the audiobook, and it's just as well I listened to it, because this is a book I don't think I could have stopped reading if I didn't have to turn off the sound.