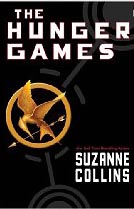 The Hunger Games
Reviewed June 15, 2009.
Scholastic Press, New York, 2008. 374 pages.
Starred Review.
When this book first came out, I wasn't interested. I don't like reality shows, and I don't like reading about violence. This book is about reality shows taken to the extreme in a future society where two young people from each district participate in the annual Hunger Games, with only one survivor at the end.
However, the book kept getting rave reviews. When it won School Library Journal's Battle of the Books, I decided I definitely should read it, and the commentators convinced me it would be worth my time. The final straw, which made me decide to read it right away, was when bloggers began bragging about getting advance readers' copies of the sequel, Catching Fire. It felt funny to not even want the sequel because I'd never read the first book. So I finally remedied that situation.
The book definitely captured my interest and concern, and kept me reading far into the night. Suzanne Collins does a good job making you care about Katniss, who at the beginning of the book spends time hunting illegally outside the fence, in order to provide for her family.
We're quickly presented with a world where life is hard and life isn't fair. When Katniss's young sister's name is called to be the district's tribute to the Hunger Games, we have no trouble believing that Katniss would volunteer to go in her place. We know that Katniss has survival skills to cope, and understand her unwillingness to trust Peeta, the other representative from District 12. After all, even in the very best result, only one of them can survive.
The games are brutal, but the author finds ways for Katniss to show compassion and humanity, as well as courage and resourcefulness. The games are more of a survival contest than a gladiator combat, as the contestants are in an enormous arena with a landscape prepared with challenges. They must find food and water, and evade natural predators as well as each other.
This book is exciting and compelling. Now I find myself as eager as everyone else to get my hands on a copy of the sequel.