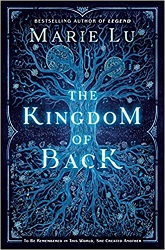 The Kingdom of Back


Review posted May 27, 2021.
Putnam, 2020. 313 pages.
Review written December 26, 2020, from a library book
The Kingdom of Back is a story of Nannerl Mozart, the big sister of Wolfgang Amadeus Mozart, based on things we know about her life.
We know that she was a child prodigy before her little brother came along, and she performed with him before the royalty of Europe. We also know that she composed music – but we don't know about any of that music existing. We don't know if some of her music got published in the name of her brother.
We're also told that she and her brother invented a country, the Kingdom of Back, and had their family's servant draw a map for them of this country. In this novel, it's an actual magical kingdom they got to visit, and it's tied to young Nannerl getting her heart's desire – to be remembered in her own right.
Nannerl meets a princeling of the magical kingdom who tells her he can grant her desire, but first she needs to complete three tasks for him. Those tasks get more and more sinister, and Nannerl isn't sure she's doing the right thing. But she loves her music and wants to be able to compose.
Here's a magical look at the young Mozarts that will leave you thinking about what it was like to be a creative young woman in a time when making art was the province of men. This isn't a typical fantasy novel, but it is a beautifully woven tale.