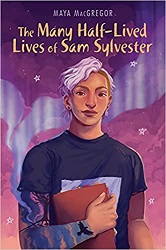 The Many Half-Lived Lives of Sam Sylvester
Review posted February 16, 2023.
Astra Young Readers, 2022. 350 pages.
Review written December 9, 2022, from a library book.
Starred Review
2022 Sonderbooks Stand-out
:
#7 General Teen Fiction
Sam is an eighteen-year-old nonbinary kid who's moving with their dad from Minnesota to small-town Oregon after an episode of bullying that almost killed them. They're comforted that in their new school, they find other queer kids and even start making friends.
But there are bullies everywhere. For years, Sam has been obsessed with the stories of kids who didn't live to age nineteen. They've got a book about those half-lived lives. And as it happens, the house their family bought used to belong to one of those kids, named Billy. And Sam is now sleeping in the bedroom where Billy died thirty years ago.
The adults in town all seem to say the same words about Billy, "It was a tragic accident." But was it? Sam starts thinking they sense Billy's presence, and what's up with that persistent smell of popcorn?
What really happened to Billy? Sam's new friend Shep thinks they can learn the truth.
But someone doesn't want them to mess around with the past. Or is it just another case of Sam being bullied for who they are? Sam can't help but wonder if they will ever reach the age of nineteen or end up as another half-lived life.
This book tells a compelling mystery in a warm and loving story about a queer teen recovering from trauma and finding their people. There is danger as they come close to the solution of the mystery, and the book certainly touches on serious topics, but I was left uplifted and encouraged by a group of people trying their best and landing on the side of caring.