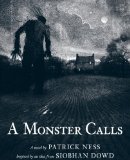 A Monster Calls
Review posted March 20, 2012.
Candlewick Press, 2011. 105 pages.
Starred Review
2012 Battle of the Kids' Books
Contender
This is a novel about a thirteen-year-old boy named Conor whose mother is dealing with cancer. His father recently left them, so they live alone. At least for as long as his grandma stays away. At school, Conor has to deal with bullying. He acts out at times, and everyone, teachers and kids, tiptoes around him because of what is happening with his mother.
The monster showed up just after midnight. As they do.
The monster comes over and over again. No one else can see the monster. But it leaves yew leaves in Conor's room. It damages Conor's house.
The monster tells him three tales. Three tales that Conor doesn't like. Three tales that pack a punch. When those are done, what is the truth that Conor needs to tell, and will he have the strength to tell it?
The illustrations in this book are atmospheric and creepy, pulling the reader into the dark, sinister setting. Everything about this book works.
However, let me just say that if you're a recently divorced mother living with your teenage son and you're experiencing strange medical symptoms, this book is not a good choice. This fact makes me think the book might not be a great choice for someone whose mother actually has cancer. It's great for building empathy in kids who are not going through something similar right now, but it might be too discouraging if the situation feels at all like it's matching life. Let's just say the outcome for the mother is not good.
For me, I had a stroke last July, and thought I'd come off very lucky, with no permanent disability and the stroke never touching my higher thinking. Then in October, I had a weird setback, feeling like I did right after the stroke again. After another setback, I saw the neurologist. He wasn't very impressed by my low-grade dizziness and feeling "funny," but then he did a neurological exam. When he saw I was seeing double if I looked up and to the right (my left eye not tracking with my right eye), he told me I'd probably had another stroke! This was December 23rd. He told me to get an MRI done the next week and see him the week after that. I tried to make an appointment to see him, and they gave me January 25th.
Now, I'd been laboring under the belief that the fact I was on Coumadin would keep me from having a second stroke. After this appointment, I had some days off because of Christmas. After Christmas, at work I noticed that now I was seeing double if I looked up and to the left. I called the neurologist's office and they told me to go to the ER, but the ER didn't find anything new wrong. I had more days off for New Year's and felt awful but just wasn't sure what the symptoms meant.
Then I read A Monster Calls for Heavy Medal blog's shortlist. Can I just say this was really bad timing? When I originally had the stroke, I wasn't very scared because I had no idea what was going on and I hadn't read about all the bad things that can happen as the result of a stroke. It was a holiday weekend, I felt awful, and my neurologist's office was closed. And I'm reading a book about the recently divorced mother of a teenage son dying. Is it so surprising that I freaked out? (Actually, after I thought about that connection, I decided to blame my freaking out directly on A Monster Calls, and then I felt much better.)
So, all this is to say: This book is outstanding. It's atmospheric, powerful, well-written and hard-hitting. But be careful when you read it.