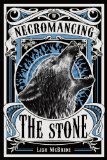 Necromancing the Stone
Reviewed April 14, 2013.
Henry Holt and Company, New York, 2012. 344 pages.
Starred Review
I liked Necromancing the Stone even better than its predecessor, Hold Me Closer, Necromancer. In the first book, Sam has to confront true Evil, and as much levity as the author combined it with, that's not exactly pleasant. In this book, Sam deals with the aftermath, and the threat of more Evil, with true compassion and maturity, but the fact that it didn't start with awful violence meant the humor and inspired silliness could shine through.
Let me start at the beginning. In the last book (Yes, you should read them in order.), Sam learned that he is a necromancer and has strange powers over the dead and abilities to speak with the dead. This happened when he defeated an evil necromancer, Douglas, who had tried to sacrifice Sam and take his power. Sam doesn't like killing, but he had to kill Douglas. And as a result, he inherited Douglas's position on the Council and his possessions. And, while he was locked in a cage, he got a werewolf girlfriend.
In this book, Sam's trying to figure out his new powers and his new life. Early on, someone close to him is killed. His sister is threatened. What's more, the reader knows who did these things, and that this could mean big huge trouble for Sam. But Sam doesn't know who did it and he isn't able to speak to the person who was killed, instead encountering a strange goddess in a place with flowers.
It all would be a trifle ludicrous if Lish McBride didn't write it so well. Sam approaches his life with self-deprecating humor, and the reader can see that he wants to navigate it all and do the right thing. The books don't just deal with Sam and his girlfriend, but with a wide range of characters -- his best friend, Ramon, who was transformed by Douglas into a werebear; James, the pukis servant of the household, his witch mother and younger sister; a Big Foot who lives in the forest with a glamour to look human and work as a forest ranger; his dead friend who now helps organize his life; his girlfriend's werewolf family; and even the garden gnomes who live in the house he's inherited and don't seem to like him much. You end up caring about all these assorted individuals as much as Sam does.
This book is a lot of fun. It's a light-hearted, humorous book about someone who finds himself suddenly dealing with death on a regular basis. Sam's not quite as much of a screw-up in this book, though he still is no wizard. And you can't help loving him.
I hope there will be many more books about Sam and the supernatural creatures of the Pacific Northwest!