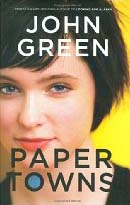 Paper Towns
Review posted January 20, 2009.
Dutton Books, 2008. 305 pages.
Starred Review.
Sonderbooks Stand-out 2008
: #2, Contemporary Teen Fiction
Wow. Paper Towns isn't quite like any other teen novel I've read. At first glance, it's a typical teen novel about parties and girlfriends and pranks and prom and graduation. But it goes so much deeper, dealing with profound questions like whether we can ever truly know another person.
The opening of the book is awesome:
The way I figure it, everyone gets a miracle. Like, I will probably never be struck by lightning, or win a Nobel Prize, or become the dictator of a small nation in the Pacific Islands, or contract terminal ear cancer, or spontaneously combust. But if you consider all the unlikely things together, at least one of them will probably happen to each of us. I could have seen it rain frogs. I could have stepped foot on Mars. I could have been eaten by a whale. I could have married the queen of England or survived months at sea. But my miracle was different. My miracle was this: out of all the houses in all the subdivisions in all of Florida, I ended up living next door to Margo Roth Spiegelman.
Quentin and Margo were friends as kids, but he hasn't seen much of her since they started high school. She moves in a much more brilliant circle. Then, one night late in their senior year, Margo knocked again on Q's window. She convinced him to drive her on a wild night of sweet revenge. The next day, she disappears.
Paper Towns deals with Quentin's quest to find Margo. As he looks for clues, he comes to terms with the fact that no one knew the real Margo. Each of her friends saw her as someone slightly different. Can we ever truly know another person?
Quentin must also face some of his own fears and figure out who he is himself. Why did Margo choose him on her night of revenge, and why did she leave clues for him to find? Did she expect him to find her?
I admit that, as a fan of John and Hank Green's Brotherhood 2.0 video blog (see http://www.nerdfighters.com/ ), I had a tendency to "hear" Quentin's voice as John Green talking. However, that worked fine and made the character that much more believable and likeable. It's refreshing to read a teen novel from a guy's perspective.
The author pulls off all this profundity with a light touch. Quentin has friends who are nerdy and quirky, and he doesn't go on his quest alone. Some of the teen antics will make parents cringe, but other than that it makes for fun, light-hearted reading.
I read the latest posts on John Green's blog at http://www.sparksflyup.com/, where he talks about some of the amazingly profound questions teens have asked him. I think that's his secret -- He has nothing but respect for the thinking of teens. He doesn't water down the philosophical questions behind the story here. So although it is indeed a teen novel, the issues raised are issues about being human, and will give people of all ages something to ponder.
I did enjoy An Abundance of Katherines, but I do think that John Green has grown as an author and I find Paper Towns an outstandingly well-crafted novel. (What I'm trying to say is that I liked this new one even better!)
As a librarian, it will be interesting to see who I can get to read this book. (I've already talked my teenage son into reading it, but he is already a fan of http://www.nerdfighters.com/, so he didn't take any convincing.) I find myself wishing it didn't have a picture of Margo on the cover, since I think there are many teenage boys who would thoroughly enjoy this book, and I will have to talk them into trying a book with a picture of a girl on the cover. (There are two covers for this book, one with a bright, happy Margo, and one more dingy, sad and dark.) At any rate, for now the book is on hold, so it's getting some buzz, and I will not have copies on the shelf to recommend to anyone.
Definitely worth reading, for readers of any age who are willing to have some fun and explore questions about how they see the world.