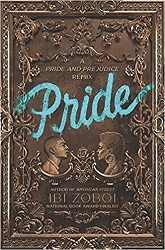 Pride
Review posted April 2, 2020.
Balzer + Bray (HarperCollins), 2018. 289 pages.
Review written October 15, 2018, from a library book
Starred Review
2018 Sonderbooks Stand-out
:
#4 General Teen Fiction
This is a Pride and Prejudice "Remix," set in the Bushwick neighborhood of Brooklyn. I have lost count of how many Pride and Prejudice tributes I have read (Actually, that's not quite true, since you can find links to all the ones I've reviewed on the page when I post this.) – and honestly, I've loved them all. This is no exception.
Zuri Benitez and her four sisters watch as a new family moves into the house across the street. It used to be run-down, but they've been renovating it for a year, and now it's a mini-mansion. Ainsley and Darius Darcy are fine – but who are they to come strutting into the neighborhood thinking they'll help it out? You guessed it – older sister Janae and Ainsley hit it off right away, but there are fireworks first between Zuri and Darius.
I got to thinking about Pride and Prejudice. It might seem obvious, because it's right there in the title, but isn't it all about respect? When someone smart, good-looking, and yes, rich, moves into town – who is he to think he's better than the rest of us? The Elizabeth Bennets of the world – highly intelligent themselves and with a loving, close-knit family – deserve respect, too.
But maybe they're a bit quick to believe they're not getting it from the Mr. Darcys of the world.
The Pride and Prejudice story is universal because it's about earning respect – and discovering that good-looking, rich man who has the world's respect might actually be kind and sensitive and doing good things that go beyond the externals – he might actually deserve Elizabeth Bennet's respect, too.
It's also about culture clash. The guy who has made it in the predominant culture moving in near the metaphorical peasantry – and needing to learn to appreciate that their lives, too, have rich community around them.
Pride tells that universal story in a new setting, with a great big helping of delight. Zuri is an Elizabeth Bennet with attitude. She's a poet, and I'm guessing she's going to make it into Howard. Here's a window into her process of discovering that Darius Darcy is more than externals, too.