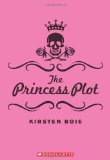 The Princess Plot
Reviewed November 27, 2010.
Recorded Books, 2009.
Originally Published in Germany in 2005. 9 CDs. 10.25 hours.
Starred Review
When I checked out The Princess Plot, I expected more of the fantasy tale I usually enjoy, set in a medieval kingdom. This story, however, is set in modern-day Europe, the story of a normal girl who gets embroiled in international affairs. Listening to it made it hard for me to get out of my car when I arrived at my destination!
The narrator did a great job. Since she has a British accent, I was imagining the book set in England. When I reached the end and learned it had been translated from German, that made a lot more sense -- the geography of flying to the invented northern kingdom of Scandia fit better. Also, Jenna's schedule of being out of school with the afternoon off fits with what I know about German teens.
The story is well-done. The plot is a little far-fetched, but the author has you going with it all the way. Jenna thinks of herself as very plain. She's been brought up by a single mother who's super-vigilant about Jenna staying safe and protected. So when her best friend wants her to go to an audition for girls their age to play a princess in a movie, she decides to do it without asking her mother's permission. It seems strange when the producers pick Jenna instead of her friend and insist that she'd be absolutely perfect for the role. It feels strange, but also very, very good.
Then they take Jenna to the Kingdom of Scandia and tell her that she's going to audition for the role by doing a favor for the princess of Scandia and being her replacement at the celebration of the princess's birthday. The princess's father recently died, and she wants to be out of the public eye. Or so they tell Jenna.
The reader knows that the princess has run away, and the regent and his people haven't found her yet. The reader also knows that the "movie" people are sending Jenna fake text messages from her mother -- so her mother does not actually know what's going on.
We see the plot unfold, little by little. We're given hints as to why they wanted Jenna. She's a perfect double for the princess. We see that some North Scandian terrorists have been active lately, and get the feeling it may be connected with that.
The whole thing adds up to a captivating yarn about an ordinary girl -- or at least someone who always thought she was ordinary -- suddenly finding herself in a foreign country in the middle of a plot that's way bigger than she is.
A sequel has recently come out, but my library hasn't ordered it yet, so I will give in and order a copy for myself. I liked the people in this book, and very much would like to read about what happens next.