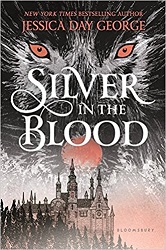 Silver in the Blood


Review posted February 26, 2018.
Bloomsbury, New York, 2015. 358 pages.
Review written in 2016.
Set in 1897, this is a historical paranormal romance about two cousins who are being sent from New York to Bucharest, Romania, to meet and learn the truth about their mother's family.
Now, the copy on the back of the book gives away what they will find. LouLou also encounters a young man on the ship who asks her, "Are you the wing?" LouLou tells about it in her letter to her cousin Dacia:
"Are you the wing?" He said it again, and looked me up and down yet again! "You are not the claw, and there is never a smoke anymore."
Complete gibberish, Dacia! What was I to do? I simply goggled at him for a moment. When I gathered myself, I started to turn away again, when he said, "You are the wing; I see it now."
By the time the girls do find out what the Wing, the Claw, and the Smoke are, we are not at all surprised. I can't help but wonder if it would have given the book more momentum if it had started when they arrived in Bucharest, rather than during their separate journeys there. There's some build-up to the revelation of the family's magic that falls a bit flat by the time we discover what it is.
We do end up with an interesting situation. Two young ladies ready for New York society suddenly discover magical powers and that their powerful family is part of a prophecy – and a political plot. They must decide which side they are on.
The timing of the story fits with the publication of the book Dracula and the girls meet Prince Mihai, a descendant of the famous count. Their family has always served the Dracul family. Prince Mihai intends that they continue to do so.
This book is a historical novel for teens who like regency fiction with dances and gowns and society – combined with a twist of magic and political intrigue. The exotic setting of the Romania of 1897 adds to the fun.