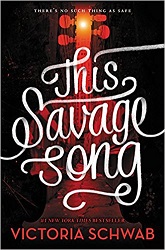 This Savage Song


Review posted October 20, 2018.
Greenwillow Books (HarperCollins), 2016. 427 pages.
Review written in 2016
Kate Harker and August Flynn live in a divided city overrun by monsters. The monsters are created when violent acts are committed. In the north side of the city, people pay Kate's father for protection. Those who wear one of his medallions will not be touched by the monsters (or the monsters will pay). In the south side of the city, August's father's forces patrol to control the monsters. But he uses three of the most powerful type of monster -- which includes August himself.
But the truce between the two powerful men and the two halves of the city is growing shaky.
Kate has been sent away for her own protection. But after she gets kicked out of six boarding schools, her father has to take her back. She will attend Colton Academy on the north side of Verity. August is also going to attend Colton Academy. Because the truce may fail. And Kate Harker may be the one thing her father cares about.
Monsters are only capable of telling the truth. Which might make it hard for August to pose as human, but he manages. His type of monster, the Sunai, can steal the souls of sinners by making music. He can tell when someone has committed violence, the kind of violence that produces monsters -- their shadows don't hold still.
The Sunai bring about justice. They work for good, right? But when they get Hungry, they can lose control....
Kate wants to prove she's strong enough to live in the city, that she is enough like her father to not fear the monsters and rule the city. She notices there's something off about August.
When monsters attack her school and it looks like the Sunai are doing it -- but August is the one who saves her -- Kate realizes that someone is trying to make the truce fall apart. Both she and August are in danger, but can they trust each other?
This book has an imaginative premise and explores what makes a human and what makes a monster. There is gore and violence, but interesting thoughts about society and violence and family.