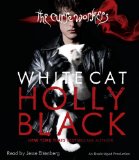 White Cat
Review posted May 1, 2011.
Listening Library, 2010. 6 CDs. 6 hours, 41 minutes.
Starred Review
2011 Sonderbooks Stand-out
: #4
Audio Rereads
I already reviewed the print form of White Cat, but listening to the audiobook was the perfect way to refresh my memory of what happened in the first book before I got a chance to read the sequel, Red Glove.
My review still stands -- this is an impressively plotted, suspenseful, and fascinating book -- but I want to add a couple comments about the audiobook.
First, like so many books with a first-person narrator, this book is perfect for the audio form. Jesse Eisenberg gives Cassel a voice that sounds completely authentic. He's a teenage guy trying to fit in, but he's also the only non-curseworker in a family of curseworkers, a kid who's been trained in the con since he was small, and someone who thinks he killed the girl he loves.
Second, I'd almost forgotten how good this book is! Even though I'd read it before, I was completely absorbed with the story, not wanting to shut off the audio when I arrived at work. I also found that, like Megan Whalen Turner's writings, this book is even better the second time around. Because hints are dropped that you don't appreciate or notice the first time.
You do know that Cassel is working on a con at the end, but when you reread it, you realize all the little things he is doing in preparation. One of the lines I appreciated more the second time was something like: "I'm the best kind of thief, who leaves something of equal value." I don't think it's a spoiler to point out that line, but you do enjoy it more after you know what Cassel's talking about.
Another good thing about an audiobook is that it slows me down. This particular book is too hard to stop reading once you start, so it was one of the many that kept me from a good night's sleep. When I listen to the audiobook, I have to spread it out over many more days, which means I can live in that world longer and notice more details of Holly Black's genius.
If you haven't started this trilogy yet, there are now two books out, ready to devour. May the third book come soon!