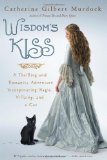 Wisdom's Kiss
A Thrilling and Romantic Adventure, Incorporating Magic, Villainy, and a Cat
Review posted August 5, 2012.
Houghton Mifflin Books for Children, 2011. 284 pages.
Starred Review
Here's another fairy-tale-type story set in the world of Princess Ben. In fact, Princess Ben, as a grandmother, makes an appearance, though you don't at all have to have read her story to understand what's going on.
Wisdom's Kiss centers around two princesses, named Temperance and Wisdom. They are granddaughters of Queen Benevolence and share the tradition of character-based names in the kingdom of Montagne. The story is also about Trudy, a young maid with the Sight. She loves the miller's son Tips, who has gone off to learn to be an acrobat, and an excellent one.
Despite his mother's machinations toward the throne of Montagne, Duke Roger of Farina is betrothed to Wisdom, the younger sister. She must travel to Farina for the wedding, and along the way she gets a new lady-in-waiting, Trudy, even though when Trudy looks at Wisdom, she feels great pain.
But then Tips' troupe is performing in the capital of Montagne, and when Wisdom sees him, she finds out what she really aspires to. But royal betrothals are not easily gotten out of.
This is a fun story, with very creative story-telling, including several different perspectives, The Imperial Encyclopedia of Lax, letters, and a play script. The plot moves along with nice twists and turns and is never the least bit boring.
A lot hinges on love at first sight, which I wasn't crazy about, but mostly everyone's actions seem true to character, and even that love seems to have a basis in the characters of the people involved.
This is an entertaining tale, creatively told, and does include romance, magic, and villainy to delight all readers.