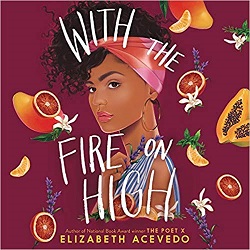 With the Fire on High
Reviewed August 20, 2019, from a library audiobook.
HarperAudio, 2019. 7.5 hours on 6 discs.
Starred Review
2019 Sonderbooks Stand-out
:
#7 Teen Fiction
Elizabeth Acevedo is the author of The Poet X, which won the 2019 Printz Award, Pura Belpré Award, Boston Globe-Horn Book Award, and National Book Award. This new book (also a stand-alone) is every bit as fiery and wonderful.
Emoni Santiago is a senior in high school with a two-year-old daughter to look after. Ever since she got pregnant her freshman year, her life has revolved around her Baby Girl. Emoni herself is looked after by her Abuela, since Emoni's mother died giving birth to her and her father went back to his island, Puerto Rico. He visits every summer, but he has never stayed.
Now Emoni is a senior, and her high school is beginning a Culinary Arts elective with a real chef. Since she was very small, Emoni has loved to cook. She doesn't necessarily follow recipes, but makes them her own. And when people eat her food, they are reminded of powerful memories. She has a magic touch.
But can Emoni handle the work of such an elective while she's trying to work on the weekends and juggle her other classwork while taking care of Baby Girl? And the class is going to take a trip to learn about the food of southern Spain – but how can Emoni possibly pay for that? And why is the new boy in their grade paying attention to her? She doesn't have time for boys.
Those are a few of the things Emoni has to deal with in this book that takes us through the start of her senior year through graduation. It's refreshing to hear the story of a single teen mother who kept her baby and is trying to take good care of her and also follow her own dreams.
When I heard Elizabeth Acevedo give her acceptance speech for the Printz Award, I loved listening to the soft accent of her musical voice. Listening to her narrate this book, I got to hear more. Emoni, given a voice by Elizabeth Acevedo, is a heroine you will enjoy spending time with and whom you won't forget any time soon.