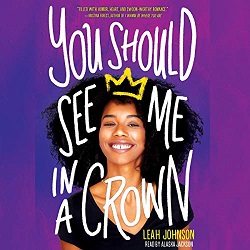 You Should See Me in a Crown
Review posted February 28, 2021.
Scholastic Press, 2020. 7 hours, 18 minutes.
Review written January 9, 2021, from a library eaudiobook
Starred Review
2020 Cybils Finalist
: Young Adult Fiction
2021 Stonewall Honor Book
Okay, I'll confess: My Cybils panel chose this book as a finalist in Young Adult Fiction, and I hadn't read it yet. I knew that a lot of people liked it, but I took a gamble that other books would rise above it – and this time, I lost out. So I felt obligated to see what my group was recommending, and I wasn't sorry.
I do have a hard time with the premise of the book: That there's a town in Indiana where Prom is everything. There's a six week campaign period for prom queen and king. Candidates are expected to do volunteer activities, have good grades, and appear in promotional events, with many of these weighted into who gets to be on the court. In fact, the winning prom queen and king get a $10,000 scholarship.
Really? To me, it seemed completely unbelievable and just invented as the set up for a book about an unlikely prom queen. And how trite is that?
But I reflected that I know nothing about how serious prom might be in a rural county of Indiana. In fact, I don't know much about prom, having gone to a small Christian high school decades ago. Now they did further destroy believability by mentioning the year – No, you didn't go to prom in 2020 – but that was a mistake a few other young adult novels made this year. Who knew when the book was being published that it couldn't actually happen in 2020?
However, after my colleagues chose the book as our finalist, I was willing to set aside my skepticism. Before long, I found myself making excuses to listen to more of the audiobook, which was good for getting puzzles done!
The story begins as Liz Lighty learns she did not get the scholarship she'd auditioned for to go to the college her mother attended – the one she's wanted to go to all her life, but especially ever since her mother died of sickle cell disease. Her brother and some friends decide she should run for prom queen – and the $10,000 scholarship. Liz doesn't even want to tell her grandparents she didn't get the scholarship, because she's afraid they'll sell their house to support her.
Trouble is, Liz's friend has a way to track her school's social media app, and Liz is currently next-to-last out of 25 candidates for prom court. On top of that, she's got social anxiety, she's black, and she's queer. She's not a "legacy" candidate with parents who were on the prom court when they were in high school.
But the story gets much more interesting in the people Liz interacts with along the way. There's a new girl who doesn't seem to care about other people's expectations. She's also beautiful. Then there's the guy who was her best friend in middle school but rejected her on the first day of ninth grade. He's running for prom king and Liz starts remembering what it was like having him for a friend.
This ends up being a timely novel about friendship and expectations and even romance. You get to caring about Liz and her family and root her on in her quest to make it to Pennington College by way of prom queen.