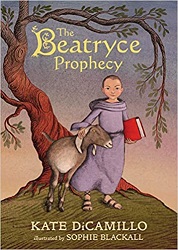 The Beatryce Prophecy
Review posted 1/22/22.
Candlewick Press, 2021. 247 pages.
Review written November 2, 2021, from a library book
Starred Review
2021 Sonderbooks Standout
:
#7 Children's Fiction
This is probably my favorite book written by Kate DiCamillo, who has won the Newbery Medal twice. It's a fantasy tale, with illustrations by two-time Caldecott Medal winner Sophie Blackall, which elevate it another level.
As usual with Kate DiCamillo books, we've got a set of quirky characters. The first one we meet is the goat Answelica, and this is how we meet her:
Answelica was a goat with teeth that were the mirror of her soul – large, sharp, and uncompromising.
Answelica terrorizes the monks of the Order of the Chronicles of Sorrowing, sending them flying through the air with her very hard head and then biting them with her terrible teeth.
One of those monks, Brother Edik, once wrote a prophecy about a girl who would unseat a king. When Brother Edik finds a girl curled up next to Answelica, holding the goat's ear, he doesn't realize this is the prophesied child, but unfortunately we learn the king's men know this and are looking for her.
Beatryce doesn't remember anything at first except her name. However, it's clear that, shockingly, this girl can read and write, which is against the law in the kingdom.
Beatryce gets sent away from the monastery, along with the goat, and gathers two more interesting and quirky characters along the way.
And in the adventure that follows, we find out if she will, in fact, unseat the king.
It's all woven together in a lovely tale that's all about love and stories.