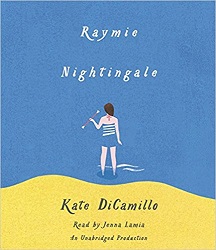 Raymie Nightingale
Review posted April 27, 2018.
Listening Library, 2016. 4 ½ hours on 4 compact discs.
Starred Review
(Review written in 2016.)
I already loved Kate DiCamillo's Raymie Nightingale. Now, having heard Raymie's voice, and the voices of the others of the Three Rancheros, I love Raymie and her friends even more.
I already talked about the plot in my review of the print version. Now let me talk about the new things that struck me when I got to listen to the story.
The narrator of this book is wonderful, giving each of the girls a distinctive voice, and giving all voices a slight southern accent. Being a northerner myself, even though the book is set in Florida, I didn't hear southern accents when I read it in my head. The accents definitely added to the charm.
Also, after listening, the characters and events are much more memorable. Maybe I read more quickly when it was in my mind. Now I feel more as if I've experienced the events of the book. And I now feel like I've met the characters, spent some time with them.
Again, the narrator's characterizations of the girls are spot on. Raymie's voice is tentative, figuring out the world. I just wanted to hug her and help her through. Louisiana is naïve and hopeful. Beverly Tapinski gives her tough-girl front. She's not afraid of anything.
The story is a crazy yarn of good intentions that spin out of control. These girls can't even attend a simple baton-twirling lesson without something going wrong. But we hear the girls tackle setbacks together. Even tough-girl Beverly can't resist the sweet, innocent, and hungry Louisiana. And we understand how Raymie is pulled along.
This would make good family listening. I don't remember them saying how old the girls are, but I would say upper elementary school age. There aren't any boys in the story, but the antics are so amusing, I don't think anyone in the family will get bored.
This beautiful story only gets better with re-listening. Kate DiCamillo just keeps winning Newbery Medals – and this new story is as great a book as any of them.