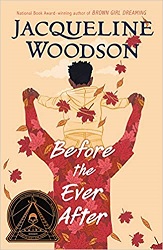 Before the Ever After
Review posted 1/29/21.
Listening Library, 2020. 2 hours, 15 minutes on eaudio
Starred Review
Review written January 4, 2021, from a library eaudiobook
2020 Sonderbooks Stand-out
:
#8 Children's Fiction
This is a novel in verse written from the perspective of twelve-year-old ZJ, talking about his Dad, a professional football player.
His Dad is a star, with a Super Bowl ring. Or at least he was – before. When ZJ goes through his memories, we learn that his Dad was also a wonderful, active, loving father. He did lots of things with ZJ and ZJ's friends.
But then one day, he didn't play a game they expected him to play. He started getting awful headaches, forgetting their names, and acting strangely. And they didn't know what was going on. Different doctors had different ideas, but nothing was working.
The way the book covers "Before," your heart breaks with ZJ when his Daddy starts to change.
Normally, I think I enjoy novels in verse more by seeing the poetry with my own eyes. It's easier to catch what the author's doing. In this case, I did enjoy listening to the warm voice of the narrator, and I did figure out it was a novel in verse before I looked at the book.
This is a heartbreaking tribute from a kid to his dad.