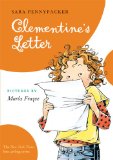 Clementine's Letter
Review posted March 11, 2011.
Hyperion Books for Children, New York, 2008. 150 pages.
Starred Review
I am so hooked on Clementine! This is the third book about this irresistible third-grader who knows how to pay attention -- to the important things.
Just when Clementine is getting the hang of third grade and in sync with her teacher, he applies for a special program to send a teacher to Egypt. The class is supposed to write letters to the judges about their teacher, and Clementine decides to write a letter to make sure he doesn't go.
Meanwhile, she has to deal with a substitute. A substitute who doesn't know how things are done in their classroom.
The rest of the morning got worse. By the time the recess bell rang, I bet I heard a hundred "Clementine-pay-attention!"s. And every time, I was paying attention!
But okay, fine, not to Mrs. Nagel, because she had gone from boring to extra-boring. Instead, I was paying attention to the astoundishing idea that had jumped into my head when I passed by the trash-and-recycling area last night. Which was the opposite of boring, believe me.
Sara Pennypacker doesn't settle for just the story of what happens to Clementine at school. She also weaves in Clementine's interactions with her parents and baby brother, her neighbor the prissy Margaret and Margaret's brother Mitchell, and Clementine's scheme to buy her mother a present. I love the way Clementine goes to find names for her brother. Since her name is also the name of a fruit, she feels her brother should have the name of a vegetable. She finds some interesting names at the Chinese grocery, and from then on we hear about Bean Sprout and Bok Choy and Scallion.
These books would make absolutely wonderful bedtime reading -- if only I had a child young enough. I'll keep it in mind some day for a grandchild! And meanwhile, if you're lucky enough to have an early-elementary-school-age child to read aloud to, I think the Clementine books would make a delightful choice.