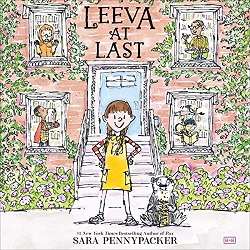 Leeva at Last
Review posted September 18, 2023.
Balzer + Bray, 2023. 5 hours, 36 minutes.
Review written September 11, 2023, from a library eaudiobook.
Starred Review
Leeva at Last is, essentially, a modern-day version of Roald Dahl's Matilda without the telekinesis.
In both books, we've got over-the-top evil and neglectful parents with a sweet and brilliant daughter who has taught herself by reading and who is completely unappreciated.
Leeva has always followed her parents' orders, as outlined in her Employee Manual, but one day she ventures beyond the hedge to the town library and a new world opens up to her. She meets Harry, who is running the library for his aunt, a librarian who has a life goal of making every kind of cookie in the world, but who can't navigate the broken stairs of the library.
Leeva's parents are the mayor and the treasurer of the town, and they rule it with an iron fist. And charge extra taxes to anyone who questions them.
There are more quirky characters, especially a boy who lives his life in Hazmat suits because his parents are insurance salespeople and have taught him all about risk. He convinces Leeva to take on the care of a badger who was orphaned when excavation was done for the mayor's giant statue. Another friend Leeva finds is Fern, who must care for her many siblings and her great-grandparents -- until Leeva gets them hooked on an exercise show.
All these characters combine together in brilliant and quirky ways to teach Leeva about community and to work things out so that people get what they deserve and everyone is happy.
None of this is meant to be realistic. However, it is fun, and it will warm your heart. In all her adventures, Leeva learns that everything is better when shared with other people.